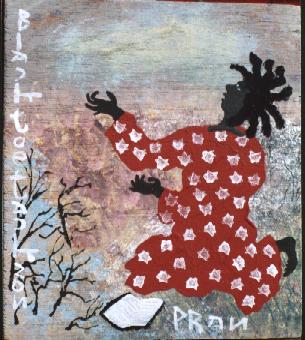 Retail and Wholesale to the Trade.


We are Wholesalers of fine 18Th.to Mid-20Th. Century Primitive Antiques. They are like what you would have found in Colonial and Pioneer Homes across the US.

We also wholesale and retail American Southern Folk Art. Many of our artists are noted Black Folk Artists. All our artists are Self Taught. They are Primitive or Naive, even Visionary in the style. All are Contemporary Artists with a Outsider view of the world around them. Please browse our gallery of fine works of art and antiques.



Black Joe Jackson is a Afro-American Self-taught Folk Artist
from Georgia born in 1920. His works are reminiscent of life
in the black South,a half a century ago. He is a memory
painter,who uses his talent and found wood and paint to
express memorable and imagined events as he raised his
family. He has a distinct style unlike others,his skys are
immense emersing into a full spectrum of pallet. His flora
is flamboyant, almost impressionistic; his focal figures
are enlarged,and flowing. He uses distortion and hyperbole
to express character and comedy. His works have been seen
in several museums,and shown in major shows and galleries
accross the eastern US. He was a big success at Folkfest '98,
'99,& 2000 and shown at the Pier Show '98 & '99 in NYC.
His exposure has been obscured by a few collectors who have
hoarded his work,unseen by the public eye. They have outright
purchased his entire production for years. Recently,they
have released a few very large pieces for viewing and have
sold at alarming prices.
Listing Site Updates
Don't miss out on the latest. We will Email you if you onterested in a similiar item. Email us to be added to our list of collectors.
Email: southernheritagefolkartantiques@yahoo.com
We also wholesale to galleries and museums. Curators let us know if we can help you.
CALL ABOUT AVAILABILITY BEFORE YOU ORDER
Jeff 252-268-6629
Southern Heritage
115 N. Queen St.
Kinston, NC 28501